Episode #11, Release Date: October 2, 2005 *THIS EPISODE HAS POOR AUDIO QUALITY
Connection between James Dean and Marilyn
Judy Garland and Marilyn
History of Marilyn's nude photos
Is her beauty mark real?
Advice on buying your own MM check (Photos and background of my check)
STAR TV visits my house!
Song about Marilyn: "Marilyn" by Dan Bern
comment from the feedback line
---
Episode 12 - October 16, 2005

Marilyn News: Elvis was turned down, Marilyn Merlot destroyed in fire
Listener mail: Was Marilyn pregnant during Some Like it Hot?
Contest to win Some Like Hot Video
Marilyn song: "Some Like it Hot"
Promo for The Frank Truth
Marilyn-themed iPod for sale
---
Episode 13 - October 30, 2005
New Video iPod
Rate "My Marilyn" at Yahoo Podcasts!
Send me your Halloween photos dressed up as Marilyn
Marilyn is #7 on Forbes list of top money-making deceased celebrities
Marilyn was presented to Queen Elizabeth II on Oct. 29, 1956
What is Marilyn's real name?
Winner of Some Like it Hot contest announced
Song about Marilyn: "A New Marilyn" by Vonda Shepard
---
Episode 14 - Novmeber 20, 2005
My podcast 411 interview is now up www.podcast411.com (Episode #104)
New items at the My Marilyn store and the Podcasterart 2006 calendar! Free shipping!
Looking for Marilyn clips for your Video iPod?
Marilyn Monroe: The Exhibit on the Queen Mary
Marilyn on the cover of December 2005 issue of Playboy - article concerns John Miner transcripts
Hugh Hefner interview discussing Marilyn and Playboy can be found here
Listener mail: Marilyn and Joan Crawford, Marilyn's hair
---
Episode 15 - December 15, 2005
New Microphone
Mailing List
Add yourself to the frapper map
June DiMaggio's new book
Elton John Red Piano Television Special featuring Susan Griffiths
My Golden Dreams Calendar (warning this link does feature nudity)
Win a 2006 Golden Dreams calendar!!!! Check them out at www.marilyncalendars.com (link contains nudity- NOTE: The winner will be able to choose the modest pose if they prefer)
Clip: Marilyn talking about calendar (provided by Ms.Monroe.net)
Song: Santa Baby by Karen Motherway (www.karenasmarilyn.com)
---
Episode 16 - January 6, 2006
My Marilyn in top 100 of Yahoo's Highly Rated Podcasts Add your Rating!
STAR TV appearance airs Feb. 19, 2006
Got a cute MM Throw for xmas PHOTO
Canadian play from 1970's called Hey Marilyn starring Beverly D'Angelo
Song about Marilyn : Musical number from Hey Marilyn
Winner of 2006 Golden Dreams calendar announced - is it you?
---
Episode 17 - January 20, 2006
New theme song by Geoff Smith!
Death of actress Shelley Winters includes audio clip
listener mail: Marilyn's recordings
1947 Lux Radio Theatre clip featuring Marilyn
Marilyn Monroe CD/DVD Anthology availabe from Cherry Red Records
looking for Marilyn clips & songs
---
Episode 18 - February 5, 2006
---
Episode 19 - February 19, 2006
---
Episode 20 - March 12, 2006
1 year anniversary coming soon!
MM photo exhibit in Miami Beach at Bass Museum of Art
Marilyn's classic TV commercial for Royal Triton - click here for video clip
Marilyn and Advertising
News on previously unreleased Marilyn Song "Down Boy" cut from this scene

Marilyn Song: Diamonds Are a Girl's Best Friend
Marilyn in Vegas
---
Episode 21 - March 26, 2006

---
Episode 22 - April 2, 2006

DiMaggio Auction
Song about Marilyn: Life-size Marilyn Monroe by www.wildstrawberries.com
Enter contest by sending in a comment 206-600-MYMM
---
Anniversary Extravaganza Giveaway - April 17, 2006
MY MARILYN PRIZE POOL - for Frapper/Comment winners
Comment from Amy (UK)
Video mentioned on Daily Source Code
Comment from Jesus
Contest #1 - Win Christies Auction DVD and list
LA Times News Article here
Updated information on fraud at Queen Mary Exhibit Mark's Blog
48 hours special Watch preview here
Comment from Betsy
Comment from Brandy
My Marilyn Collectible CD now available!

Contest #2 - Win a My Marilyn CD and T-shirt
Comment from Amy (Calgary)
Comment from Brian The Frank Truth
Comment from Linda
Frapper Map Prize Giveaway
Comment from Geoff Smith (BTW, his song is called "Not on the Radio" - sorry Geoff)
Contest #3 - Win Antholgy CD and DVD package
Comment from PJ
Contest #4 - Win a Milton Greene Black Sitting

Comment from Emily
Comment Prize Giveaway
Mystery Comment
---
Episode 24 - April 30, 2006
How is Marilyn perceived around the world?
Comment from Jodie
Podcasts now on cellphones using Mobilcast if you use Rogers click here for info
Marilyn News with Danamo (Norma to Marilyn Fan Club)
CMG lawsuit
Marilyn's Man Lawsuit
Charlize Theron to play Marilyn
Contest Winner #1 and #2 announced
Comment from Margaret
48 hours rant - Jeanne Carman, Tony Curtis total BS

Audio from Ken Hunter and Dr. Engelberg not heard on 48 hours
Contest Winner #3 & #4 announced
---
Episode 25 - May 14, 2006
---
Episode 26 - May 27, 2006
Happy 80th Birthday Marilyn!
Marilyn News (with Danamo and Beth) www.norma2marilyn.com
SLIH bustier auction link
Warhol auction link
Jasgur court case link
Today show "lost" Marilyn footage
New book - "Marilyn in Art" by Roger Taylor - get yours now! Click Here
Previously unreleased Marilyn Song "Down Boy"
Check out Jack Allen's www.DreamCityPhoto.com for movie photos!
Contest to win Leading Ladies book
I'm off to Vegas!
---
Episode 27 - June 11, 2006

---
Episode 28 - June 25, 2006
Martin and Lewis NBC Radio Show with special guest Marilyn Monroe - Feb. 25, 1953
Marilyn Monroe CD/DVD Anthology available from Cherry Red Records

---
Episode 29 - July 9, 2006
Please Nominate My Marilyn for a Podcast Award by going here

I would like everyone to nominate in the same categories so the numbers are as high as possible. You can nominate it in 2 places using the form I linked to above : Please select "Best Produced" and "Movies/Films". You will have to fill out the podcast name: "My Marilyn" and the Podcast url:

http://mymarilyn.ca

You will also have to include your name and email address as well as a comment for why you like the show or think it should be nominated. Some people will get a validation email and some won't - they are only sending them out to a percentage of the total voters.

Check out www.classicactresses.com
Christina's new album cover based on MM link
Warhol exhibit at the Art Gallery of Ontario link
MM: Still Life on PBS July 19, 2006 link
Comment from Claire
Check out some scans of the Joe DiMaggio tickets http://www.marilynmonroe.ca/camera/tickets/index.html
Stay away from the book: DiMaggio Setting the record straight
Marilyn Movie Review: Ladies of the Chorus
My appearance at Remfest
---
Episode 30 - July 24, 2006
---
Episode 31 - August 7, 2006 * Note this is a long show it runs around 42 minutes
Vote now at www.podcastawards.com until August 11
Subscribe to the video feed for a new video clip - bet you have never seen this one
Speakers at the memorial service
Lee Strasberg's eulogy
Win a Milton Greene Calendar or buy your own here

---
THE REMAINING EPISODES DO NOT APPEAR ON THE VOLUME ONE CD.
STAY TUNED FOR VOLUME TWO.
---
Episode 32 - August 20, 2006 * Note this is another long show it runs around 40 minutes
My CBC Radio interview can be downloaded here
Get-together for Ontario fans at www.normajeanes.com
Comment from Lexi
MM News: Sherrie Lee Laird, Lyndsay Lohan, Paris Hilton, MM lookalike contest
Winner of Milton Greene calendar contest - purchase prints here
Interview with Susan Griffiths www.susangriffiths.com
Added to video feed - Candle in the Wind by Elton John featuring Susan
---
Episode 33 - September 4, 2006
The restaurants website is really cool http://www.joedimaggiosrestaurant.com/
---
Episode 34 - September 17, 2006
Nominated at www.podcastpeers.org
Gorgeous website by April at www.miss-vintage.com
Marilyn Movie festival in Edmonton, Alberta link
Joe Jasgur court case update link
Film review: Love Nest
Movie Trailer added to video feed
Marilyn Song: She Acts Like a Woman Should
---
Episode 35 - October 9, 2006
Marilyn did not sleep with Elvis link
Dolores Hope Masi going commerical link
Tony Curtis making money off Marilyn link
New fan club founded in Finland www.magicalmarilyn.com if you want to join email magicalmarilynfanclub@yahoo.com
Song about Marilyn: An Actress by Elena Mady
Down Boy video added to video feed
My Marilyn winner at Podcast Peer Awards
---
Episode 36 - November 12, 2006

Movie Review: Don't Bother to Knock
---
Episode 37 - December 15, 2006
I do have a myspace page at http://myspace.com/marilynpodcast
Travilla Gentlemen Prefer Blondes sketch sold for $20,000 PHOTO
Misfits make-up and hair test footage sold for $10,000 PHOTO
Marilyn's Brentwood gates did not sell PHOTO
Previously unseen Marilyn Photos are not really unpublished ARTICLE
New Carlton Cards ornament available LINK
Ed's GORGEOUS "A New Wrinkle" Calendar

Audio comment from Dave
TV Guide and Marilyn's appearances on television
Win a Black Sitting Print from the Milton Greene Archives
Post on this FORUM to support the creation of a Black Sitting Book - I would appreciate if you mention that you heard about it on my podcast
MERRY CHRISTMAS!
---
Episode 38 - January 22, 2007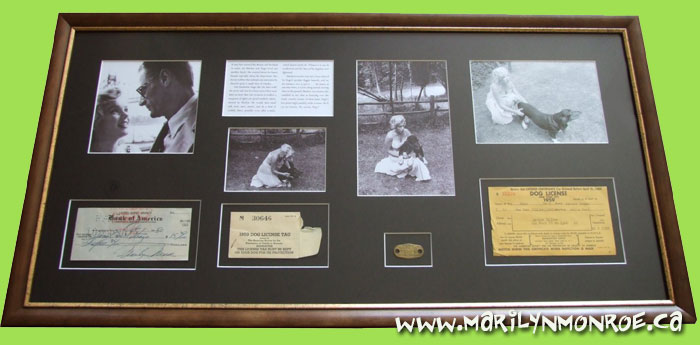 Bye Bye Baby from the Jack Benny Episode
---
Episode 39 - February 18, 2007 The Who Was Marilyn's True Love Episode
Check out the schedule of events for August link
Clip of Jim Dougherty
Comment from Laura
Marilyn and Joe DiMaggio - did he abuse her?
Comment from Bridgette
Clip of divorce announcement
Comment from Amy
Marilyn and Arthur
Comment from Ron
Contest winner announced
Anna Nicole Smith wallpaper
My Heart Belongs to Daddy by Anna Nicole Smith
---
Episode 40 - March 31, 2007
Trip to Brock Plaza Hotel, Niagara Falls
Menu from breakfast at Rainbow Room (click to enlarge)

The Grapevine Cottage, Collingwood, ON - Email April at AprilandJoy@aol.com if you are interested in her MM items. Tell her you heard about it on the My Marilyn Podcast. Here is a photo of the room dividers. Lots of other photos available!

Anna Nicole Updates in the news including chloral hydrate and her Marilyn tattoo link
"Newly" released FBI documents doubted by Anthony Summers link
Comment from Eliza
Listener Question : How did you become a Marilyn fan? What is your first Marilyn memory and first item you ever bought? Call 206-222-1926 with your answer by April 20 and you will be entered in a draw to win a copy of John Gilmore's new book about Marilyn.
My first introduction to Marilyn came from Madonna. You can download "Material Girl" in mp4 format here
Comment from Deidre
Looking for this Golden Dreams calendar link
New Podcast CD will be coming soon.
---
Episode 41 - April 29, 2007 MP3
2 year anniversary of the show
Comment from Jim
Get together June 2 in Mississauga link
Comment from April
Trip to LA finalized - Forever Blonde performance on August 5 - schedule of events
Comment from Michael
New Franklin Mint Doll available by clicking on the photo below
Comment from Nancy
My first book was Marilyn by Gloria Steinem and George Barris
Barris Beach Session Music video download at www.imarilyn.com
Comment from Ron
Get John Gilmore's new book "Inside Marilyn Monroe"
Contest winner announced
Interview coming next episode!
---
Episode 42 - May 21, 2007
45 years ago on May 19th Marilyn sang to JFK watch video at www.imarilyn.com
5 people attending lunch on June 2 in Mississauga link
Comment from Joey
August events put on by Immortal Marilyn
Join Magical Marilyn Fan Club! Highly recommended!
Photographers win Legal Battle over Marilyn's image link
Brittney Spears considering duet with Marilyn on Down Boy
Marilyn Monroe in Spain by Frederic Cabanas ORDER INFORMATION AVAILABLE HERE
David's signed copy of Marilyn: A Hollywood Farewell - IN LOVING MEMORY OF DAVID

---
Episode 43 - July 24, 2007
Leaving for LA in 6 days
Gentlemen Prefer Blondes is playing at Mann's Chinese Theatre INFO
Marilyn Movie Festival in Montreal at www.cinemaduparc.com
Exclusive audio and video during August at www.marilynmonroe.de
Comment from Chris
Ontario get together
Contest to win a copy of The Last Sitting by Bert Stern

VIP Lounge Event in Hollywood