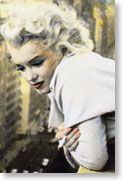 During her starlet years, Marilyn studied at the Actors Lab in Los Angeles, an outpost of East Coast theatrical folk in the heart of film industry territory. At the time she thought of New York as "a far, far away place...where actors and directors did very different things than stand around all day arguing about a close-up or a camera angle....It seemed so exciting to me, and I wanted to be part of that life."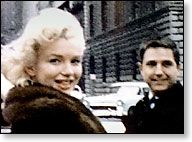 In 1954 she decided to make it happen. In the Big Apple she holed up with business partner Milton Greene to plan her life as an independent producer, she began working with Lee Strasberg, she re-negoitated her contract with Fox, she plunged into the world of psychoanalysis, and she fell in love with Arthur Miller. Love prompted her to eulogize about Brooklyn, where Miller was living at the time: "I'm going to buy a little house in Brooklyn and live there. I'll go to the coast only when I have to make a picture."

Marilyn had a number of homes in New York City from 1955 until her death. For most of that time, she had an apartment on East Fifty-Seventh Street. Her last visit to New York was in May 1962, when she sang "Happy Birthday" to President Kennedy at Madison Square Garden.

-
from "The Marilyn Encyclopedia"
Planning your own trip to New York and want to visit some Marilyn related locations?

Print out the following map....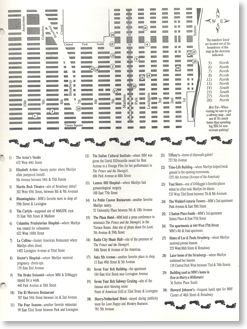 I would recommend staying at the
Radio City Apartments
. It was very reasonably priced and had a fabulous location!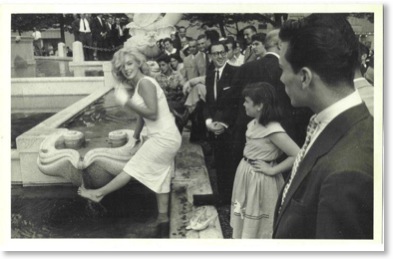 Fountain located in Central Park.
Here is some rare footage of Marilyn walking the streets of New York.