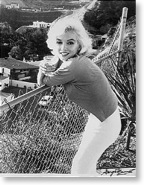 Marilyn Monroe was born and raised in Los Angeles. Over the years many fans have enjoyed re-tracing her footsteps and visiting the many sites we only read about in books. I have listed some of the more popular spots that fans flock to. However, there are many more sites to visit than what is mentioned here. I've included photos from my trips. I have been to Hollywood twice now and I recommend staying at the
Orchid Suites
. Great price and the location is absolutely perfect right beside the Kodak Theatre.


LOOKING FOR MORE INFORMATION?

Are you planning a trip to LA and would like to go on your own Marilyn tour? I highly recommend the book "Hometown Girl" by Eric Woodard for detailed descriptions, addresses and photos.

For the ULTIMATE guide that includes driving directions visit...



WALKING DISTANCE
Grauman's Chinese Theater
- 6925 Hollywood Boulevard
This courtyard is located within the Kodak Theater complex.


Hollywood Walk of Fame Star
- 6774 Hollywood Boulevard
Marilyn's star is located right in front of McDonalds.
T
he Hollywood Walk of Fame began construction in 1958. Within sixteen months, 1,558 luminaries were immortalized on The Walk of Fame in one sweeping installation. This included Marilyn's star. The official mass dedication ceremony was held on February 8, 1960 but Marilyn did not attend.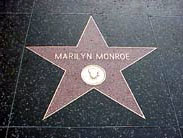 Roosevelt Hotel
- 7028-34 Hollywood Boulevard
In 1951 Marilyn did a poolside photo session here. In the mid 1950's Marilyn stayed on and off in Suite 1200. It is reported that a beautiful blonde haunts the mirror that once hung in that suite. The mirror now hangs in a public area with a Marilyn art piece beside it.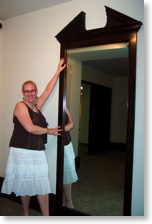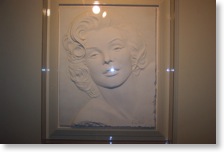 DRIVING DISTANCE


Hollygrove (Los Angeles Orphan Home) -
815 North El Centro Avenue
Young Norma Jeane lived here from 1935 - 1937. She married Jim Dougherty at the age of 16 to avoid returning. Her room had a window that faced the RKO studio (now Paramount) water tower and she dreamed of one day working there.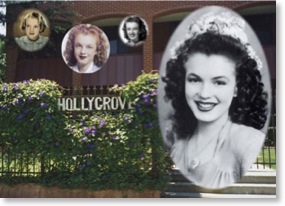 Studio Club -
1215 Lodi St

The Studio Club was a residential hotel for young women who had come to LA to pursue acting.
Marilyn shared room 307 in 1946 during her first contract with 20th Century Fox. Later, on June 3 1948, during her Columbia contract she returned to the Studio Club. This time she lived by herself in room 334. Marilyn lived there until March 13, 1949. Today, the location is now taken over by the YMCA but the studio club sign is still displayed.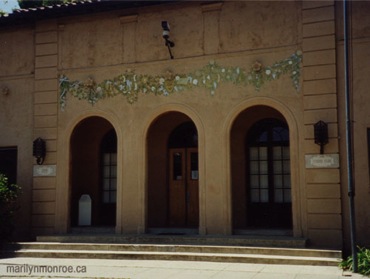 Wrong Door Raid
- 8122 Waring Avenue
On November 5, 1954 Joe DiMaggio and Frank Sinatra broke down the door to an apartment they believed Marilyn was in, hoping to catch her having an affair. Unfortunately, they broke into the wrong apartment. Marilyn was in the building with a female friend and was able to make her escape.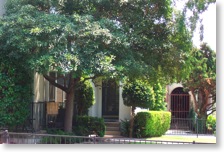 Barney's Beanery
- 8447 Santa Monica Blvd.
A favourite restaurant of Marilyn's that she frequented during her starlet years. She was known to enjoy the chili and this is mentioned in the current menu.
Joe & Marilyn's Newlywed Home
- 508 N. Palm Drive
On October 6, 1954 this house became the focus of national attention when Marilyn stepped outside the front lawn with her lawyer to announce she was seeking a divorce after only 9 months of marriage.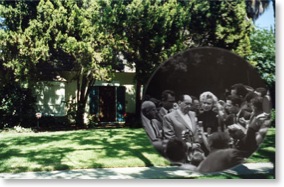 Johnny Hyde Home
- 718 N. Palm Drive
in 1949 Johnny Hyde met and fell in love with Marilyn. He promptly left his wife and rented this home in order to be with Marilyn. Marilyn did a photo session in the backyard with a small dog. To keep up appearances Marilyn also kept a room at the Beverly Carlton Hotel. In December 1950 Johnny died and Marilyn was forced to leave the house by Hyde's estranged wife.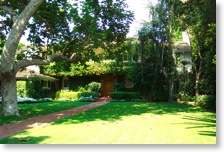 Natasha Lytess Apartment
- 1309 North Harper Avenue
Marilyn lived on and off here with her drama coach, Natasha, while she was dating Johnny Hyde. When Johnny died she moved back in with Natasha.
MORE INFO HERE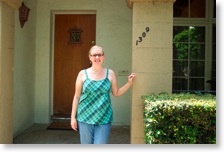 Beverly Hills Hotel
- 9641 West Sunset Blvd.
Marilyn first lived here in 1952. She lived here briefly with Joe in 1954 before moving to their Palm Drive home. In 1958, Marilyn again returned to live here while shooting "Some Like it Hot" and for the last time in 1960 wile filming "Let's Make Love". During this last stay, the Millers lived in bungalow #20 and co-star Yves Montand and his wife stay in ajoining bungalow #21. It is here that Marilyn and Yves carried on their affair. Marilyn also received 2 photoplay awards here in 1953 and 1954. She wore the famous gold lame dress to the 1953 awards. Both award ceremonies took place in the hotel's Crystal Room.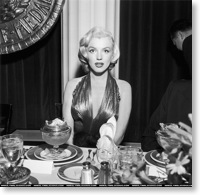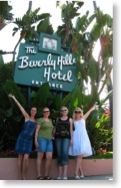 Rainbow Bar and Grill
- 9015 Sunset Blvd.
Originally called Villa Nova in the early 1950's, this was a very popular Italian restaurant. This is where Marilyn and Joe met on a blind date in March of 1952. They enjoyed a spaghetti dinner at a booth in the very back of restaurant. Their booth still exists today. Outside the restaurant is a tile with Marilyn's likeness on the ground.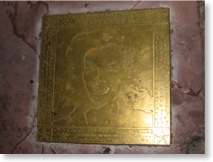 The Lawford Beach House
- 625 Palisades Beach Road
Marilyn was a frequent guest at Peter Lawford's home in 1961 through 1962. It is here that Marilyn met both JFK and Bobby Kennedy. The beach house was known for it's parties. On the night Marilyn died she had declined an invitation from Peter to come to a dinner party. George Barris took a series of photos of Marilyn on Santa Monica beach directly in front of the Lawford house.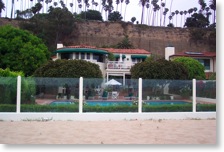 Marilyn's Last Home in Brentwood
- 12305 5th Helena
Marilyn bought this modest home in 1962. It was the first home that she ever owned. She was in the middle of furnishing it with Mexican furniture when she died here late on August 4, 1962. The house no longer has the numbers out front and the gate has recently been painted blue.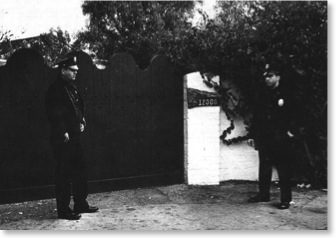 5th Helena August 5, 1962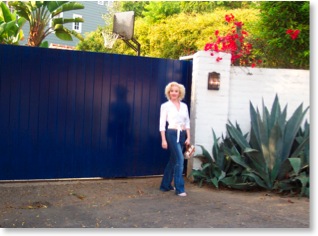 5th Helena August 4, 2007



Westwood Memorial Cemetery
- 1218 Glendon Avenue
No Marilyn tour would be complete without a stop at her final resting place. Marilyn's crypt is located near the Northeast corner. The cemetery is not easy to find. It is located in a downtown commercial area hidden behind tall buildings. When you hit Wilshire Blvd and Glendon keep a close eye. The driveway for the cemetery is located on the left just past a tall office building. Marilyn's funeral took place in the chapel here on August 8, 1962.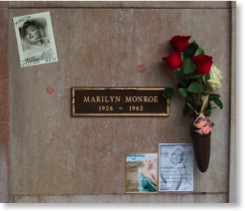 Lastly, here is a video that talks about some of the Marilyn sites you can visit in LA.