---
So what is provenance and why does it matter? Provenance is a record of ownership of a work of art or an antique, used as a guide to it's authenticity. Unfortunately, as Marilyn's popularity continues to increase so does the number of people who try to take advantage of this. A simple search on Ebay will reveal a number of items that supposedly belonged to Marilyn. Just because an item comes with a Certificate of Authenticity does not make it legit. Anyone can type up a letter of provenance and many fakes use the names of people that did have ties to Marilyn to make them seem believeable. In particular do not trust any items that are supposedly from Bebe Goodard, Helen Turpin, Elaine Barrymore, May Reis, Kent Warner, etc. If it seems too good to be true it probably is. Authentic Marilyn items are not cheap.

Personally, the only Marilyn owned item I would ever be satisfied with is something that originated from the 1999 Christies Auction of Marilyn's Personal Belongings. When Marilyn passed away in 1962 she left all of her belongings to her acting coach, Lee Strasberg. These items were kept in storage until they were sold by Strasberg's heir in 1999. The catalogue from this auction is a collectible in its own right. These items do come up for resale from time to time from legitimate auction houses like Juliens and Profiles in History.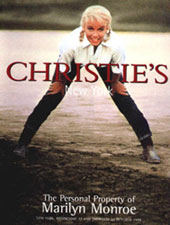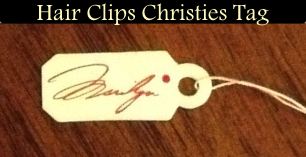 The rhinestone hair clips are pictured in the catalogue and they came with their original tag from the Christies auction!


---

I was beyond excited to come across these candid photos of Marilyn and Arthur out for an evening of theatre. Marilyn looked absolutely breathtaking and a little rhinestone star hair clip made an appearance of its own!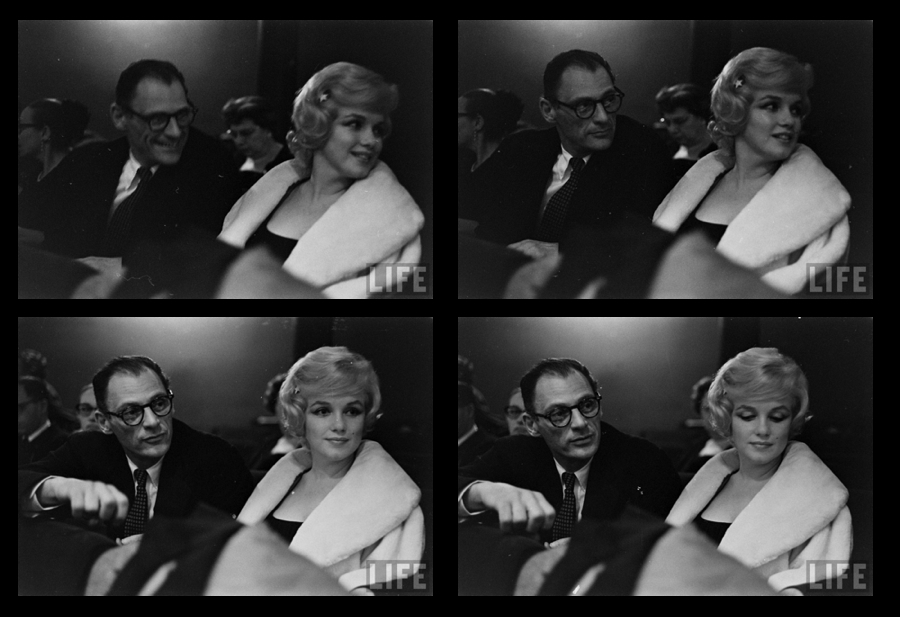 If you would like to see more amazing photos from this evening I have created an IMAGE GALLERY.


---

The back of the hair clips have the name AUGUSTE BONAZ and made in France so I wanted to research their history.

Auguste Bonaz was a master comb maker famous during the Art Deco period. His hair combs are highly collectible. The Bonaz House was founded towards the mid 19th century by Cesar, and was located in Oyannox, an area of France celebrated for comb making. His son Auguste opened a branch in Paris, which continued in business until 1982. The Bonaz collection was largely distributed through high end perfume shops and ladies hairdressers, as well as major department stores throughout France.

During my research, I came across this wonderful vintage magazine ad that I have displayed with Marilyn's combs. It says, "A Shower of Stars, The lucky star that permits you to create a new hairstyle each night is signed Auguste Bonaz."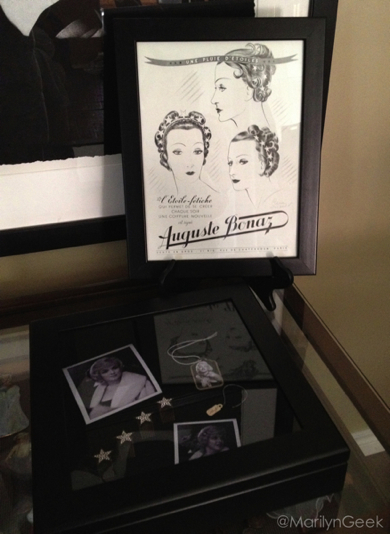 This advertisement shows the kinds of small rhinestone hair ornaments which were favoured throughout the period 1930s to 1950s. Small hair combs, barrettes and head bands feature stars, chevrons, circles, swirls and bows and are usually ornamented with rhinestones that are prong set into chromed metal.


---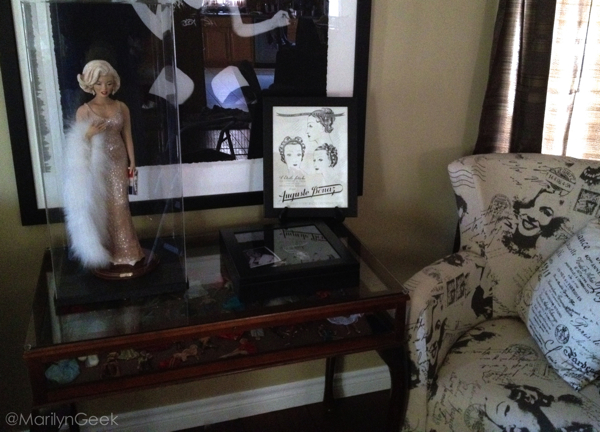 Here is how I have the clips displayed. They are in my living room instead of the Marilyn shrine - so I get the chance to look at them every day.
---
BACK TO COLLECTION