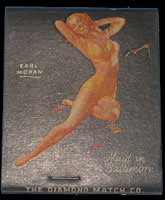 Marilyn was destined to be a calendar girl. One of her very first modeling assignments was for pinup artist Earl Moran. Moran's work was very well known and was widely distributed in the 1940's and '50s. In 1947, a young Marilyn posed for Moran in various stages of undress. Moran's renditions of Marilyn were not only featured on calendar tops, but also on other items such as advertising blotters, matchbook covers (shown), and notepads.

Moran's series of three paintings entitled Maid in Baltimore command the highest prices. These feature Marilyn in a two-piece yellow bikini in different poses. These are the large versions (16 x 34 inches). Note: Calendars below are 1948, 1947 and unknown year - the last calendar was missing it's original pad.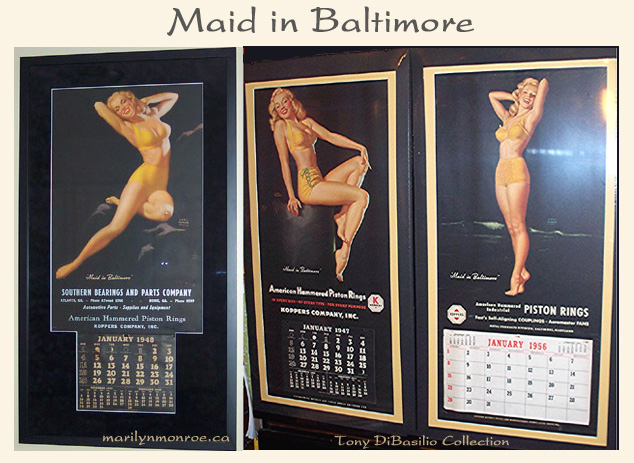 The Maid in Baltimore series always featured advertising for American Hammered Piston Rings by the Kopper's Co. Inc. Buyers need to be aware that there are many other cases of blonde models being used by Kopper's Co in this series. The three above have been identified as Marilyn.
In the late 40's/early 50's Moran illustrations based on Marilyn were featured on handout calendars. They were typically 5x10 inches and were printed on heavy cardboard with a calendar and advertisement on the bottom.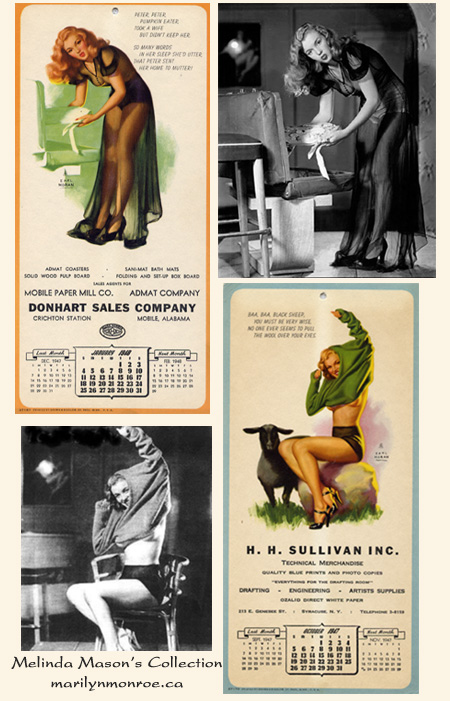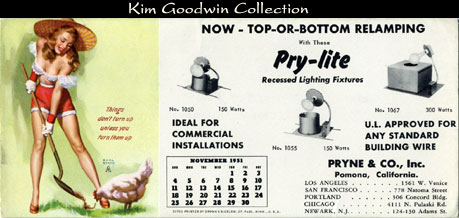 Earl Moran's Girls of 1950 calendar featured Moran paintings of Marilyn on the months of February, March, May and June. It was spiral bound and measured 8.5x14 inches.
The 1953 edition featured Marilyn on the months of March, May and June.