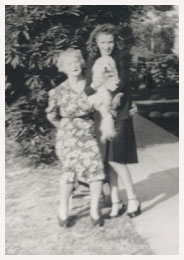 Young Norma Jeane lived with Ana Lower on Nebraska Avenue some time after leaving the orphanage in 1937. Ana was the aunt of Norma Jeane's legal guardian Grace Goddard, who had been a close friend of her mother.

In early 1940, Ana's health was suffering and she could no longer care for Norma Jeane. Norma Jeane went to live with Grace, her husband Doc and Doc's daughter Bebe. She attended Emerson Junior High School and graduated 9th grade in June 1941. In September 1941, Norma Jeane and Bebe enrolled as students at Van Nuys High School.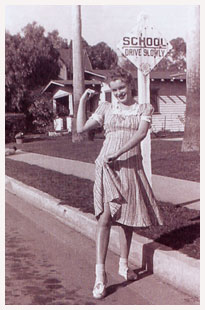 Grace was still in contact with her former neighbour Ethel Dougherty and she asked if Ethel's son Jim could run the girls home from school each evening in his car. This lead to Norma Jeane and Jim dating.
In early 1942, the Goddards announced that they were moving to West Virginia and could not take Norma Jeane with them. Norma Jeane returned to Nebraska Avenue with Aunt Ana. This meant her sophomore year was also interrupted by the move. Norma Jeane began attending University High School in February 1942.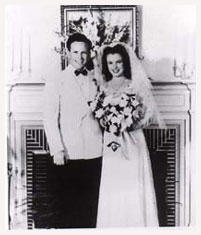 Since Norma Jeane could not stay with Aunt Ana permanently, the only other option was for her to return to the orphanage. Grace and Ethel had already decided that a good solution would be for Jim to marry Norma Jeane. Jim was hesitant because of the age difference. He was 21 and she was just turning 16.
Norma Jeane's classmates were surprised when she announced that she was leaving school in order to get married. It probably haunted Marilyn her entire life that she did not stay and graduate from high school.
Norma Jeane became Mrs. Dougherty on June 19, 1942.