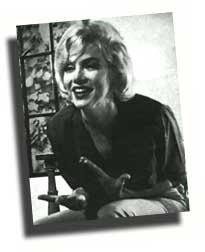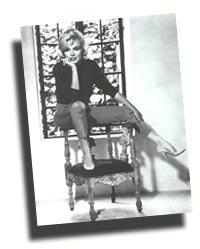 Through her childhood of shifting adult influences and instability, Norma Jeane was a very quiet and shy girl. In her own words, she "figured early in life that if I didn't talk I couldn't be blamed for anything."

Norma Jeane suffered from low self-esteem, and developed a stammer. Marilyn recalled that at junior high school she was class secretary, and would open class meetings by saying, "M-m-mintues of the last m-m-meeting." She was still battling this problem during her early years as an actress. It has been suggested that the frustration of stammering was one of the reasons why Marilyn was so nervous about learning and delivering her lines. At times like this, her voice was described by drama coach Natasha Lytess as a "tight squeak".

During her years as an aspiring actress, one of the many pieces of advice she received, useful or spurious, was to "lower her tone." This she duly did. She also studied singing, quickly developing her distinctive style. Phil Moore, who coached Marilyn for Gentlemem Prefer Blondes (1953), pinpointed Marilyn's special appeal in song: "She always sounds as if she's just waking up. You'd be surprised what kind of effect that has on male listeners."

To a large extent, the Marilyn voice of the first half of her career, with its exaggerated clarity and staccato stressing of "d" and "t", was the result of tutoring from Lytess. Marilyn was, more than once, lampooned by her directors for what Otto Preminger (director of River of No Return) described as her "grave ar-tic-yew-lay-shun." Stylized as this may have been, it finally helped Marilyn overcome her tendency to stutter. It is this breathy whisper which generations of later actresses have employed as a surefire signifier of sexual attraction and availability.

Only on very few occasions did Marilyn publicly use her real voice: in a few press conferences, press announcements, and in interviews with journalists, recordings of which have found their way into collectors' hands. However, in her last, unfinished movie, Something's Got to Give, Marilyn took a new direction and spoke in her normal voice.

It is very interesting to watch the documentaries "Marilyn: The Final Day" or "Marilyn: The last interview" and hear her talking in her regular voice. I also think that the movie "Clash By Night" showcases this unbreathy voice.