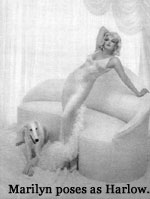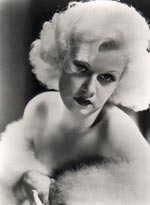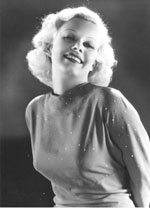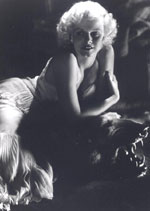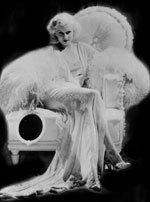 To Marilyn, Jean Harlow was more than a hero: Harlow's life was in many ways a blueprint of her own.

Born on March 3, 1911 in Kansas City, Harlean Carpenter was known simply as "The Baby" when growing up with her maternal grandparents. Like so many of Hollywood's most memorable sex symbols, Harlow often played the parts of dangerous, sexually charged women with flaws that mirrored her own nature and history.

Harlow's break into the movies came in 1928, when she began to pick up roles as an extra. Then in 1930, Howard Hughes put her in "Hell's Angels", in which Harlow stole the show with her sly and assured sexuality. Frank Capra made history when his lingering shots of her body in "Platinum Blonde" (1931). During the brief period when young Norma Jeane lived with her mother, and best friend Grace Goddard she was often taken to see her screen idol Harlow in movies like; Dinner at Eight(1933), Bombshell (1933), and The Girl From Missouri (1934). Harlow's last movie, opposite Clark Gable, was Saratoga (1937). She died on June 7, 1937, aged just twenty-six, from complications of uremic poisoning (acute nephritis).

The parallels in the lives of Monroe and Harlow are overwhelming: both were brought up by strict Christian Scientists (in Norma Jeane's case, her beloved foster parent, Ana Lower); both were married three times; both left school at sixteen to marry their first husbands (Harlow eloped with a millionaire); both spent their lives seeking out their father; and both died in tragic and some say suspicious circumstances. They both acted opposite Clark Gable in the last film they ever made. Intrigingly, Gable once said of Harlow, "She didn't want to be famous, she wanted to be happy," a quote that can be equally applied to Marilyn.

They were both great lovers of animals and willing to provide a haven for strays. Both of them tested the morals of their days by posing nude, flaunting their bodies, and eschewing underwear; both of them acted under their mother's maiden names. Each lived on North Palm Drive at one point in their lives. Marilyn, like Harlow, had to go on a one woman strike to improve her extremely unfavorable contract terms and payment rates at the height of her popularity. The parallels continue even at the end of their lives; both actresses were regularly prescribed sedatives by their doctors; just months before both actresses died, they went to a presidential birthday celebration (Harlow went to President Franklin Delano Roosevelt's birthday ball, Marilyn to President John Kennedy's), for which they were reprimanded by their studios.

Marilyn certainly played her part in setting herself up on a parallel path to her hero. When she met influential Hollywood columnist Sidney Skolsky in 1950, she told him that for her whole life, Harlow had been her role model. Skolsky, who had known Harlow, agreed to help Marilyn achieve her aim, and for the next few years he placed tidbits in his column and used his influence with studio contacts. The two of them also plotted to make a Harlow movie.

After she had become a star, Marilyn became ruefully aware of the striking similarities in their lives. In 1957 she told Milton Greene: "I kept thinking of her, rolling over the facts of her life in my mind. It was kind of spooky, and sometimes I thought, am I making this happen? But I don't think so. We just seemed to have the same spirit or something, I don't know. I kept wondering if I would die young like her, too."

Although Marilyn never managed to fulfil her long-held dream of playing Harlow on screen, she did pose as her hero for photographer Richard Avedon in 1958, as part of a screen goddesses series. In his commentary on the photographs, Arthur Miller expressed his own personal preference for her homage to Harlow, which she portrayed "not so much by wit, as by her deep sympathy for that actress's tragic life."

Clark Gable, who acted opposite Jean Harlow in five films, compared the two actresses after working with Marilyn on The Misfits (1961): "Harlow was always very relaxed, but is girl is high-strung, and she worries more - about her lines, her appearance, her performance. She is constantly trying to improve as an actress."

A month or so before she dies, Marilyn went with Sidney Skolsky to visit Jean Harlow's mother, "Mama Jean" Bello, to ask her permission to press ahead with their planned film of Harlow's life. "Mama Jean" reputedly looked at Marilyn and exclaimed that her baby had come back to life. The next meeting for this project was allegedly scheduled for August 5, when Skolsky was due to go to Marilyn's house and work on a treatment for The Jean Harlow Story.

Even in death Marilyn emulated her heroine. The flowers delivered every week to her grave by Joe DiMaggio were the fulfillment of a promise he had made to Marilyn that he would be as devoted to her as William Powell had been to Harlow. Powell regularly sent flowers to his love's resting place in Forrest Lawn.